Lakshadweep, the coral paradise
Formerly Laccadive, renamed Lakshadweep in 1973, the archipelago consist of 36 coral islands in the Arabian Sea, about 185 miles (300 km) off the Kerala coast. Densely covered with coconut palms, each island floats serenely in sea whose waters range from turquoise to saphire blue. These islands are believed to have been formed as the result of coral activity and these corals thrive only in clear water of temperature 23 to 33o C.
Most of the islands have on their western side a lagoon enclosed by a coral reef. The lagoon runs through the entire length of the island and differs in width and depth. More about Lakshadweep
LAKSHADWEEP SAMUDRAM PACKAGES 2012- 2013
04 Nights / 05 Days - BY SHIP M.V. KAVARATT I (KAVARATTI - KALPENI - MINICOY) - Details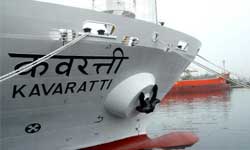 The all-weather passenger ship, m.v. Kavaratti, built for the Lakshadweep administration by Hindustan Shipyard, Visakhapatnam, will make its maiden voyage to the islands. The Motor Vessel Kavaratti is a 700 Passengers cum 200 T Cargo Vessel built for the Union Territory of Lakshadweep Islands. To enhance the experience of travellers and to promote tourism, there are 150 first class berths (2 Berths in each room) have been specially assigned to Indian tourists... 'Read more on M.V. Kavaratti'
The Samudram Package is a Five Day cruise (Only for Indian Nationals) which takes tourists to Kavaratti, Kalpeni and Minicoy for day excursion. During the day with lunch, refreshments and entertainments ashore. Swimming, snorkeling and other water sports during the day tour. Sight seeing (Marine Museum, Tuna Factory, Villages etc.) by Four Wheelers. Folk dances of local entertainers will be arranged in all the islands. Night spends onboard the ship M.V. Kavaratti.
Type of Class: Diamond Class (2 Berths / No of Cabins: 1 Cabins)
No of Days: 04 Nights / 05 Days
Number of Persons: Nos.02 ( 02 Adults )
Total: Rs. 42,460/- (100% Advance payment required for the package confirmation.) [The above rate/s (The Samudram (By new ship M.V.Kavaratti) Package) is inclusive of - Adult Rate Transportaion Charge, Tour Charge (Rs.20,000 * 2 ) + 3.9 % Govt.tax + Rs. 900/- ( Documentation & Service Charge per person Rs. 450 * 2)]
Fare is inclusive of Transportation,
All Food (Veg/Non Veg),
Sight Seeing, Watersports,
Permits, Documentation
Passenger handling charges, Fuel Surcharge
Ship/island/ship transfers & service tax. (From Kochi and Back to Kochi - all inclusive)
Watersports includes kayaking, snorkeling, boating and glass bottom boat rides are free in all three islands

To know more details about lakshadweep Packages , please visit : http://www.lakshadweepforum.com

Applicable Rate for Children:

Children Upto 1 yrs. Free of charge
Children between 1 yrs. To 9 yrs: Rs. 14,000/- For 5 Days / Tax & Service charge extra applicable
Rate for student group (Min.20 Nos): Group Leader will be free, in each and every 20 pax ( based on availability)/ Tax & Service charge extra applicable

Onboard the Ship
Onboard the ship a film is shown to the tourist giving a brief history of Lakshadweep, its environment, the coral reefs and its management, the ban on picking up of corals, using plastics and ways to keep the islands clean and enjoy the beauty without disturbing or destroying it. Sample Itinerary

Cabin Facility (Ship M.V. Kavaratti):-
Furnished cabins containing a generous amount of space with throughout carpet. Couches, study table and private baths in every room in order to enhance your enjoyment and relaxation. Rooms are available with two beds (Arranged by one up and the other down) in the diamond class.

Special Notes

1) The Samudram programme is available for visiting 3 islands (Kavaratti/Kalpeni/Minicoy) on the large ship m.v.Kavaratti
2) The Coral Reef Package for 3 islands (The itinerary is the same as above) is being arranged on the smaller ships at 'mv Arabian Sea'.
3) Tour Programme / Schedule of ship is liable to change or cancel without prior notice, ships are operated by Lakshadweep Administration. In case of a change in the ship schedule liability of Agent/Sports is restricted to transporting the tourists by immediate available conveyance of the ship only.
4) Tourists availing LTC may collect LTC certificate from Tour Manager on board at the time of return journey or from 'Sports' office. (Transport and tour change bifurcation/or not is given in the tariff chart. Tour operator charge /or/ Service charge (if any) may not be included in the LTC document).
5) The above ship packages are valid for Indian nationals only.
6) All the Water Sports activities are at their own risk and the organizers will not be responsible in any manner. View 'Safety Measures '
7) The participating ships are not in a luxury type category cruises; there is no onboard entertainments or shoppings.
8) Entry Permit - All tourists to Lakshadweep requires entry permit to visit Lakshadweep. We shall arrange the same for Agatti & nearby 4 islands ; to obtain the same you will have to forward name, age & place of birth of person/s to us as soon as you confirm the bookings.
9) Please Note: If Lakshadweep Samudram Ship package get cancelled alternative Kerala Package can be arranged.
10) October 21, December 22, and 28 Bookings Closed (Seats are full)
ABOUT THE VISITING ISLANDS
Minicoy Islands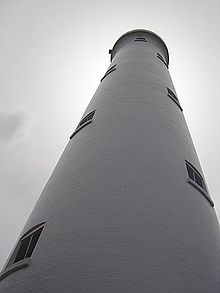 Minicoy (locally known as Maliku) is, in a sense, isolated from the main group of islands and lies about 200 kms south of the northern group. It is 10.6 kms long and is the second largest island after Andrott.
Minicoy has one of the largest lagoons with a small uninhabited islet Viringili on its southern side. Minicoy is distinct from the northern group of islands in its culture, language dress etc. It has a cluster of 11 villages, which are called "Ava'h" each presided over by an elected village elder called... More about Minicoy
Kavaratti Island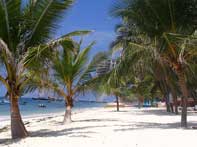 Kavaratti is the administrative capital of Lakshadweep. This island is blessed with a unique natural beauty that enchants the tourists with its bewitching landscape. It is the second most populous island in Lakshadweep after Androth Island. A blend of traditional culture and modern infrastructure attract the tourists to this island. In the lagoons around Kavaratti, one can come face to face with star fish, anemones, sea cucumbers and innumerable fishes of different varieties and colors...More about Kavaratti Island
Kalpeni Island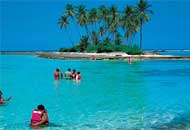 Kalpeni is known for its scenic beauty with the small islets called Tilakkam & Pitti and an uninhabited island on the north called Cheriyam. A huge shallow lagoon encloses all of them. A peculiar feature of Kalpeni atoll is the huge storm bank of coral debris along the eastern & southeastern shoreline. It is a progressive island. It was in this island that girls first went to school, when women's education was considered a taboo....More about Kalpeni Island
Package Price: Total: Rs. 42,460
Type of Class: Diamond Class (2 Berths / No of Cabins: 1 Cabins)
No of Days: 04 Nights / 05 Days
Number of Persons: Nos.02 ( 02 Adults)
Total: Rs. 42,460/- (100% Advance payment required for the package confirmation.)
Other Details
Entry Permit
All tourists to Lakshadweep requires entry permit to visit Lakshadweep. We shall arrange the same for Agatti & nearby 4 islands;
Payment
HighSeason: 50% payment can be sent in advance & the rest can be paid 30 days before trip.
Peak Season: (01st December to 15th January - Schedule) 100% payment can be sent in advance to get confirmed reservation.

Payment can be Bank Transfer to ICICI BANK / CREDIT CARD
Online Payment By VISA & MASTERCARD
Please note: Online credit card transactions will attract a card fee 2.5% of the amount.
Please find payment link: http://www.payments.mintvalley.com/pay/dopayment.aspx
(KINDLY INTIMATE US THE TRANSACTION DETAILS)